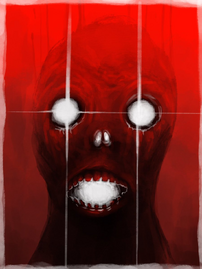 Wrong Way - wrong way. better turn back now. you can find your own way back, can't you? better go. It is a red creature created by the Trevor Hendersons.
Description
It is a red creature with white eyes, only the head is visible in the picture. It is an evil creature that kills its prey with the help of energy and material manipulation.
Abilities
Wrong Way able to manipulate energy and distort reality. This creature is considered an immortal monster and cannot be killed. He is also known to be able to teleport. He can shoot an energy beam that destroys atoms.