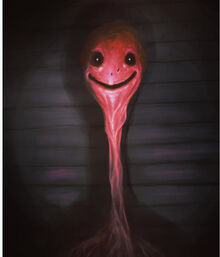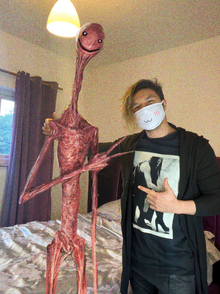 The Very Scary Man is a creature, created by Trevor Henderson. It currently remains unknown if he is malevolent or benevolent.
Appearance
The Very Scary Man has hollowed-out orbitals, and white pinpricks as pupils, with a pair of small, uneven holes for nostrils, and a mouth which has been stretched into a visually-unsettling smile. It also has a slender neck, making a resemblance to Peeping Tom.
https://mobile.twitter.com/slimyswampghost/status/1246134443913416704
https://twitter.com/CinemamindDavid/status/1248716781021208578
History
Reminder for all citizens: stay inside your homes as much as possible. The governor has issued a lockdown order for all non-essential businesses.
When you do have to go out, wear a mask or facial covering. Make sure it is fully secured. If it begins to slip, fix it in private, away from mirrors. Masking stations have been provided across town for you to use.
If you cannot wear a mask outside, keep your mouth closed at all times.
Do not speak. Do not eat. Especially do not smile.
They can only get you if they see your teeth.
Trivia
The creature doesn't have anything to do with the virus outbreak
The creature was a joke response from Trevor Henderson, however it's a tweet and not a comment
As seen on The Second Picture on This Page. The Very Scary Man seems to be quite Friendly as long as it can't see your Teeth.