The Dark Siren Head is a advanced and evolutional version of Siren Head.
Appearance
The Dark Siren Head is a humanoid creature. It´s 40 feet tall (like the same height as Siren Head) and has very long arms and legs. The arms and legs are disproportionate. It´s as tall as a telephone tower and the interesting thing is it can change it´s body to whatever shape it wants and adjust as per the need. It is able to walk, but it can also crawl. This siren head has a skeletal body but the bones are not quite visible. The body is completely dark. So dark that it does not reflect light. It has a long pole attached to it´s body instead of a neck.
Now the most obvious part. Like regular siren head, it has a siren for a head. Actually, it has multiple of them as a head. The sirens are megaphones. The sirens are attached to it´s pole by it´s skin tendrils. So the siren head can move in 360 degrees. These sirens are also made out of metal. Like Siren head, in each siren is a mouth. This mouth has two sets of sharp teeth. The mouth does not have a lip but inside each mouth there is a tongue.
Description
The tongue is a long, retractable tongue, which goes in and out constantly. And the creature makes noises. Each siren has the capability of making all kinds of noises. It is able to crawl, make noises, move it´s sirens and move it´s tongues. Of course, it is a type of siren head along with a bunch of other kinds of siren heads. One of them is Head Light, which is a siren head with a light as a head. There are also a Wood, Shadow, Blood and Ice version of Siren Head. (I will be writing them soon!) The dark version is one of the most advanced ones. It´s sirens can create a lot of different voices at the same time. Each siren can make a different voice than the other. This means they can play out a conversation of multiple people single-handedly. A victim who encounters multi headed siren head for the first time can easily be trapped to believe that there is a group of people talking some way ahead or inside a forest or inside a building. Maybe they all will be calling him/her. The victim could have also heard all the voices he he/she had ever heard in his/her life. And in that way he/she will not even realize and continue towards the trap until finally, dark siren head finds him/her and kills him/her.
The feature of having multiple sirens can be used in many different ways. The victims are often taken to secluded places, and then the multi headed siren head doesn't even need a second to kill them. Because from each siren it can make loud, high decibel screeching noises, which can blow your brain away. Unlike the normal siren head, the dark siren head has multiple sirens, which will make the process easier. Oscillate as a loud laughter, whenever it encounters it´s victims. This will definitely disorient and scare the victim. And it becomes easier to handle them.
Another feature is that it´s totally dark in colour, which is because it´s skin absorbs light. This makes it difficult to spot at night times. It can easily hide itself in shadows. In fact, it will look like it´s a shadow. So a person trying to escape from it is going to end up getting eaten by it. It´s not gonna be easy. It seems like it´s more dangerous that siren head who can only make noises to attract it´s victim and kill it by making loud noises. Unlike dark siren head, who can slo disguise itself like a shadow making it´s kill more easier, it probably doesn't take much effort to attract and kill it´s victims. You might have not heard anything more dangerous than this. (You probably have) This creature has the capability to wipe out humanity itself so that it can survive for ages.
Trivia
The Dark Siren Head might be one of the fastest siren heads in the world because it is able to crawl very fast.
Dark Siren Head and Multi Headed Siren Head might be either the same creature, or different encounterparts.
Gallery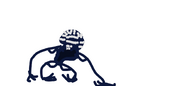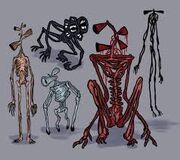 Community content is available under
CC-BY-SA
unless otherwise noted.