| | | |
| --- | --- | --- |
| " | You have a very pringly mic | " |
| | ~ Striker the folf on VRChat | |
hi there User. welcome to my profile.
Random stuffs about me
Hi there. heres some stuff about me. i love most music. my favorite songs are burn the stars, spitfire, dancin, ashes, and a ton of others. alot of times i just blank out so I'm a literal living syntax error. my mentality is soccer ball because why not. i am Australian but i currently live in the U.S. i do have a youtube channel. please check it out and if you like it, subscribe because my channel is very small. heres a link : https://www.youtube.com/channel/UCrrYI9q83t9nZ3Yq2zbLBBQ. i love fritos and key lime pie. kinda random but ok. i like crime shows and medical shows. my favorites of each genre are House M.D and NCIS (Wont be the same without ya Mark Harmon). im pretty nice and fun to hang out with but that doesnt mean i cant be a jerk. there are a few things that i dont tolerate whatsoever like bullying, mainly because most of my life i was bullied. yes i am a furry if you couldnt tell already. i know alot of people on this wiki are anti-furry *cough* TheGreatLucario *cough* *cough*, but honestly i dont care. ill live my life the way i want. i am female transgender which means i was born male but i consider myself female. im also pansexual which means i can be attracted to anyone no matter there gender or orientation. i love drawing and i do it alot. ive especialy started getting into digital art. i also like doing crafts things. im pretty short for my age and my voice is high as fuck.....im pretty sure my bodys like nah your not gonna grow ever. i have ODD, OCD, ADHD, DID, a few other mental issues because my body hates me. i do go to college and im studying to be a veterinarian.
my fandom friends
Fe!rceol'f0xy5.0
itsmeyep
pickaliscage16
Yourmom3030
DSinfinite/TrevorFanRaymond
Neonthefox1234
also to all you haters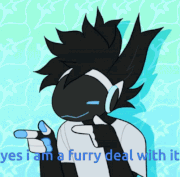 Community content is available under
CC-BY-SA
unless otherwise noted.