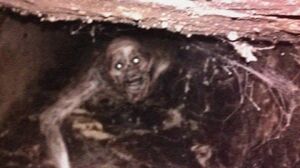 The Zombie Ghost is a creature created by Trevor Henderson.
Appearance
The Zombie Ghost creature has brown skin and white eyes due to it being in the process of rotting away. It has an open mouth and an arm reaching to the camera,and is quite probably dangerous. The Zombie Ghost seems to lack limbs in the photo only having one arm. Dispite the name The Zombie Ghost seems to be just a zombie and not in any way a ghost
Trivia
Despite some people calling it disposable camera, its real name can be the zombie ghost.