The Member of the Hospital is a creature created by Trevor Henderson
It was all a blur. He had lost control of the car, somehow. And now, he was being wheeled off, to where? An operating room? His thoughts weren't taking the time to stick together. Someone told him everything was going to be ok. Something peered at him through the swinging doors.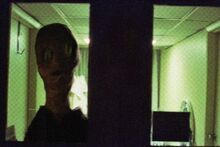 the creature might represent death itself as in the title it said he had lost control of the car which means a car crash. and also then by operating room, it means he is in a hospital and by at the end, someone says it's going to be okay but maybe it won't be okay and death has arrived.
https://mobile.twitter.com/slimyswampghost/status/1086139500819025920
Appearance
The Member of The Hospital appears to have an orange-red head, with no visible ears. It has no visible jawline, almost like it's mouth is just a hole cut into it. It's head and neck are very misshapen, and it has two eyes looking different directions. It's mouth is small. It appears to be wearing a black shirt.