"The door was unlocked when you got home from work, but nothing was changed, nothing stolen. You went over the house with a fine-tooth comb, expecting to find some burglar hiding behind the drapes or under the bed, but nothing. There was no one there. You were sure of it."-Trevor Henderson
Appearance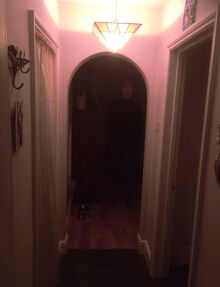 It is a humanoid in a black outfit, making it hard to see its body. Its face is distorted like a decomposing human.
Trivia
N/A
Source
Burglar Headquarters
Information
---
Capital1: Seems to be Staring at the Camera Man
Eye Color: Black
Skin Color: Black
Head Color: Gray
Species: Burglar/Human
Creator: Trever Henderson
Year Made: 1210
Related: Scribble Head
Likes: Scribble Head
Dislikes: ???
Relatives: Scribble Head
Image: None
Cryptids
---