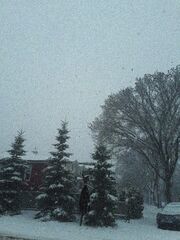 | | | |
| --- | --- | --- |
| " | As the blizzard closed in, people were isolated, waiting for the inevitable. Some people started to see things outside, just glimpses. | " |
| | ~ Trevor Henderson | |
Appearance.
The Black Deer is a creature made by Trevor Henderson. It has completely black skin, white eyes, and it stands on two legs. Its hands have 4 fingers. It only shows up during blizzards. What makes this entity unusual is that, as mentioned above, it stands on two legs, very much like a human would. However, in real life, it would be almost impossible for a deer to do such an action, as it would almost certainly fall over.
Behavior and backstory.
The black deer appears on snowy days, were it watches a person of its choosing from nearby trees. The black deer will stalk the person it chose for a weak, after which it will appear to them. When the black deer appears to a person, it tells them it will kill their family. The black deer will then disappear from the person's eyes. The black deer will actually not kill the person's family, but watch as the person freaks out and makes sure their family is ok. So then the black deer will appear to the person's family and tell them that it will kill the person the family loves. So now the hole family is going crazy, calling the cops, looking around wildly, and moving away. While all this drama is happening, the black deer is enjoying itself while it watches chaos unfold. So in the end, the black deer rarely kills people. The black deer is a one-of-a-kind demon.
Abilities.
The black deer can go invisible, create magical darkness, and deal a lot of damage with its claws. Due to being a demon, the black deer its immune to poison.
Source
https://slimyswampghost.tumblr.com/post/176970106474/as-the-blizzard-closed-in-people-were-isolated