So Where's The Bus Appears to be a man standing on the bus stop while faceless except is have a hollow head and one giant eye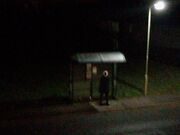 A Type From The Twitter
"It's there most nights, really late, like it's waiting for the bus. Nobody else can see it, they just walk by. The city closed that bus route years ago."
Description
So Where's The Bus Appears to be a man standing on the bus stop while faceless except is have a hollow head and one giant eye having a black coat with buttons on it appears to be night time the man looks like he's screaming for the bus, but actually no, he was staring at the camera.
Species
Bus Stop = The Man in the bus stop.
Ability
Only could be stared at.
Trivia
N/A
How Many Year Old
The photo was made on dec 11 2019 so it's 2 years old wait.... AHHHHHHHHHHHHH.
Source
https://twitter.com/slimyswampghost/status/1204602587686854657