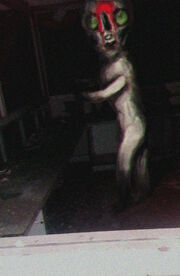 SCP-173 is a sculpture created by Japanese artist Izumi Kato, most known for being used as an SCP. Though not an original creation by Trevor Henderson, he has drawn it.
Notes
The original SCP article is as follows:
Object Class: Euclid
Special Containment Procedures: Item SCP-173 is to be kept in a locked container at all times. When personnel must enter SCP-173's container, no fewer than 3 may enter at any time and the door is to be relocked behind them. At all times, two persons must maintain direct eye contact with SCP-173 until all personnel have vacated and relocked the container.
Description: Moved to Site-19 1993. Origin is as of yet unknown. It is constructed from concrete and rebar with traces of Krylon brand spray paint. SCP-173 is animate and extremely hostile. The object cannot move while within a direct line of sight. Line of sight must not be broken at any time with SCP-173. Personnel assigned to enter container are instructed to alert one another before blinking. Object is reported to attack by snapping the neck at the base of the skull, or by strangulation. In the event of an attack, personnel are to observe Class 4 hazardous object containment procedures.
Personnel report sounds of scraping stone originating from within the container when no one is present inside. This is considered normal, and any change in this behaviour should be reported to the acting HMCL supervisor on duty.
The reddish brown substance on the floor is a combination of feces and blood. Origin of these materials is unknown. The enclosure must be cleaned on a bi-weekly basis.

Trivia
SCP-173 was the first SCP to ever be written, somewhat analogous to the fact it was the first SCP to be implemented into the game SCP: Containment Breach.
SCP-173 is featured, alongside other members of the SCP Foundation, in the aforementioned game SCP: Containment Breach.
SCP-173 is not Trevor Henderson's original work, it belongs to a Japanese artist Izumi Kato, but is mostly known for its appearance in the SCP-Community.
Although commonly stated to be a plagiarism of Doctor Who's Weeping Angels, SCP-173 was actually published several months prior to the release of Blink.
Fans have given it the nickname "Peanut" due to its visual similarities to a peanut.
Trevor has also made drawings of SCP-106 and SCP-2852.
Source
https://slimyswampghost.tumblr.com/post/180542975259/scp-173-dont-blink
Gallery