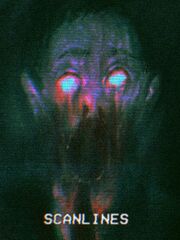 SCANLINES is a creation made by trevor henderson
Abilities.
Scanlines can cry tears of fire, create illusions, make people freeze, and make people burn. Its also immune to fire and cold temperature.
Behavior and backstory.
Scanlines can be found in places that have fire and cold temperature. example a volcano in a snowy mountain. Scanlines is hostile to any creature it encounters. Scanlines will create illusions to lure people close to itself and then it will freeze the person to hold it still while it burns them alive. Scanelines used to be a human who was about to freeze to death in the artic when a nearby mountain erupted and the lava killed him instead. Some people say he died of cold first. So after he died, he became a undead creature known as scanlines.