Warning: Mothman isn't Created by Trevor, it's a mythical creature that was created before Trevor created the photoshopped image because there were reports in 1966, and this big moth creature sighting in the picture isn't real.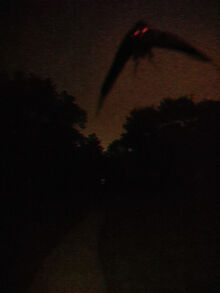 Mothman is a monster made by Trevor Henderson, though it is based off of the cryptid that haunted Point Pleasant, West Virginia from 1966 to 1967. It's appearance bares a look like a owl with red eyes. However, the wings are very long, length of it is unknown, but is about 1-10 meters. In addition, it has skinny legs like a frog
ACTUAL ORIGINS:
Mothman is a West Virginian cryptid and one of the most well known monsters in the United States. Despite it's name, Mothman is not really a moth creature. It is rumored to have feathers and other features like that of a giant owl. It's eyes are an unnatural red, "red like you've never seen red before" according to an eyewitness. The main place to see Mothman is in Point Pleasant, West Virginia. It's prime time was in the 1960s.
Despite what some people think, Mothman is not made by Trevor Henderson. The image to the right is just a piece Trevor made of the infamous cryptid. Possibly his own rendition of what it may look like. People have been seeing it in real life since the 1960s and made reports that are still here today, much before Trevor even did these art pieces.
Gallery