| | | |
| --- | --- | --- |
| " | The rash of disappearances had two commonalities: It was always people walking the side streets on their way home from work, from some social outing, and it was always dark by the time people started wondering where they were. It was always past when the street lights come on. | " |
| | ~ Trevor Henderson | |
The Light Head is a fictional-being created by the canadian artist respectfully known as Trevor Henderson. It is a 12 meters tall humanoid creature with a heavily emaciated, near-skeletal frame covered in dried, mummified flesh with a color similar to rusted metal. emaciated being with a light post.
Appareance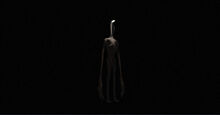 The Head Light, unlike what its name suggests, does not actually have a head. Its "head" is a mix of multiple unknown elements that make it near impossible to destroy by normal means. It is theorized, however, that the main components involved are some type of hard light compound. The reasoning comes from the Head Light's lamppost and its ability to produce light consistently after death. Its lamppost produces a light source different from normal bioluminescence but eerily resembles a high-intensity gas-discharge lamppost seen in modern street lights. The head light lamppost has currently never been able to be destroyed or scratched by any modern means, it is also classified as Non-Decaying due to it not being able to break down as no organic matter exists. The skin of Head Light is mostly gray. Its thickness allows the animal to endure bites or scratches from other aggressive creatures. Its skin may serve as a chemical defense, as its parasite repellents give the animal a characteristic scent. At least 11 main aromatic chemicals are in its skin, although indole and 3-methylindole are responsible for most of the smell.
A lamppost has many uses for a Head Light, as it can vary for both defense or offense capabilities. A lamppost can create a flashing pattern of quick succession similar to that of a stroboscopic lamp, or strobe lights. This can be very disorienting upon direct eye contact, as it can leave you in a state of Flash blindness. The Head Light has multiple signals that allow you to predict when it will start beginning its pattern.
Trivia
Trevor stated this could be a subspecies or just Siren Head with a different
This creature is actually confirmed to just be Siren Head
The official name is Lamp Head, however the creature was given the name Head Light since searching that would give you a single image of this creature in the past
Possibly Head LIght is canon because he is SIren Head but with a Lamp Post