Just a funky little forest friend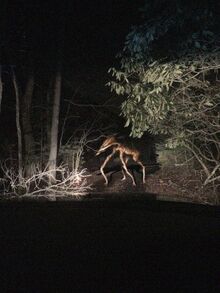 The Forest Friend resembles a giant bug. It has 4 legs with two toes on each leg. It doesn't have a face. Instead, its head is shown to narrow down to a tip. It has a hump on its back and looks slightly hunched. It is estimated to be at least 5-6 feet tall, guessed by the scenery behind it.
Trivia
It is possible it uses its head as a defense against predators.
Source
https://slimyswampghost.tumblr.com/post/188281559219/just-a-funky-little-forest-friend