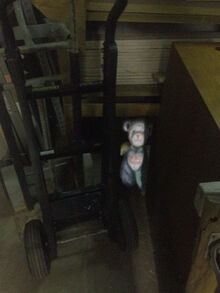 Bohug is a character created by Claire of MySillyComics. He was later drawn by Trevor Henderson.
Appearance
He appears to be a colorful, pastel teddy bear with a bib reading "best friend". It is unknown what his intentions are as he does not appear to have any sort of threatening look, at least not yet.
Trivia
Bohug was created by Claire of MySillyComics based on a teddy bear she had as a child and still owns. However, Trevor Henderson created a more unsettling atmosphere for Bohug, even if Bohug himself is mostly a more realistic version of his appearance in Claire's comics.